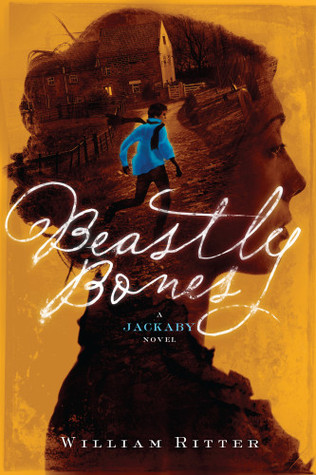 Beastly Bones: It's 1892 and Abigail Rook is just about to embark on a new adventure with famous sleuth detective, Jackaby.
After a call to check out some strange shapeshifting kittens, Jackaby and Abigail are contempt to take care of them. However the next day, the kittens' owner is found dead in her own home. Police may have ignored the thought of a murder, if the victim's bodily scars didn't match those of another death in Gad's Valley.
Grasping at water, it's still not much proof, so the two puzzle-cracking geniuses head out to Gad's Valley to inspect the murder. The timing couldn't be more than perfect, because a local farmer has uncovered a dinosaur skeleton right in his field! But what do ancient bones have to do with the victims? And who is the true culprit of setting the murders in motion? This may be one tough case, but for Rook and Jackaby, they will stop at nothing to solve it.
Review: Praise for Beastly Bones and other books like it!
This was phenomenally brilliant! I had a hard time cracking the case myself. In the end, I figured out only half of the case, while the other half came as a complete shock to me. When I originally read Jackaby, I figured out the case before the middle of the book. With Beastly Bones I had a harder time trying to figure out who the villain was, or if there was truly one at all! But it was really fun, and I enjoyed reading the whole book out to see everything unfold.
I love all the characters!!!!! It's so much fun reading about all their silly banter, it's like I'm actually in the presence of Mr. Holmes and Dr. Watson! Or better yet, the Doctor and his Companion! Because the relationship between Rook and Jackaby is professional, yet very friendly. Jackaby is the crazy uncle who fantasizes fantastic beasts (hehe), and Abigail is the niece who sticks along with her crazy, but brilliant, uncle and ends up caught in the crossfire of mayhem and adventure. Really, these two are very compatible when it comes to solving cases. It's entertaining to see them in action!
Like I said, I loved all the characters; this includes Mr. Hank Hudson (I'm guessing he's the Mrs. Hudson of the story, but not quite), Toby (a dog, but he's in the actual Sherlock stories; or so I'm told), Charlie Baker aka Charlie Cane (he's absolutely precious I tell you), Jenny (although she wasn't in this book much, I still like her), and Douglas (my favorite duck). (Just imagine Douglas and Will Herondale meeting. Haha!) They all held a special place in the book, and I appreciate them for it. We also got some new characters too! The womanizing Owen Horner, the short-tempered Lewis Lamb, and the bravehearted Nellie Fuller. Of course there are more, but these are the only extra new characters that help turn the story around.
I love coming back to these books. The world building is so detailed, and the accounts so precise, that I could imagine myself there. Abigail Rook is a very good storyteller; she made the book all the more exciting and entertaining to read, but still while keeping everything classy. Everything was well-done, even the amazing beasts that were mentioned. 🙂
I wasn't too addicted to the book. I could put it down and pick it up again as I pleased. I dare say, it did take a long while to get through it all, but it was completely worth it. If I planned reading this book better, I bet I could have finished it in less than two days. So for those of you with lots of time on your hands, I bet you could go through this book enormously fast.
Th plot was so well addressed. There's proper murders, thrill, and mystery to keep you guessing. I was surprised at all the plot twists, and I bet you will be too. They are more towards the end, but they hit you hard and fast, so be careful.
Overall, it was a spectacular read, and I can't wait to get my hands on book 3! (I'm trying to find it right now.)
Rating: ❄️❄️❄️❄️
More: If you liked this post, then please hit that Like and/or Follow button! It makes me happy every time I get a Like of a Follow, so please hit one of those buttons, or both (if you're feeling button happy). I do plan on reading Ghostly Echoes (book 3) sometime, so I'll be looking forward to that. If you want to check out other works by Willam Ritter, I suggest you click here to see his website. Thanks for reading, I'll swing by here later!
---
Follow Me