Thank you!
I want to thank the amazing Jasmine @ How Useful It Is for nominating me! Go check out her site, it's really cool! And please go check out her award post, it's amazing!
(Also I just want to say that I have a few tags that're going to be late, sorry! I'll try and get those finished up and posted!)
Rules:
1.Write a post to show your award
2.Give a brief story of how your blog started
3.Give two pieces of advice to new bloggers
4.Thank whoever nominated you and provide a link to their blog
5.Select 15 other blogs you want to give the award to.
How It Began
Well to those who don't know, I'll tell you how my blogging began.
Last year, in my computer class, I had gotten an assignment to either do a blog, wiki, podcast or vlog. These were supposed to be made the next trimester, but I wanted to jump start on the assignment so I could be comfortable building a blog.
I used my school email for a whole number of blog sites, with various start-up blogs. None of the websites were advanced enough, and the ones that were required a fee after 14 days, which wouldn't have been good because this was homework. Seriously, why pay for homework? Who would want that? So I left all those sites because they weren't for me.
Then after trying with WordPress, I finally gotten started on my book blog. My site looked really different then, it was like a pink-tan color with a different theme. I just did only reviews, that was my main focus. I was Icebreaker, I would break the ice of books, so to say. Honestly, I was terrified of tags because I didn't know what they were — I just chose to ignore those scary little things, tags. I put up some Questions or Polls every now and then (I'll still do those, by the way. I know I haven't done them in ever.) but I was new to the blogging world and didn't have any blogger friends.
I got tagged. Dun dun dun!
And it really wasn't so bad, I had fun posting my first one. I continued to do them more often and I've met some really nice people who love books as well! Along with some great new reads, thanks to recommendations.
My teacher eventually forgotten that my blogging was an assignment, but I didn't really want to turn in my blog for a grade. It was mine, plus I have a lot of random fandom stuff and gifs that, I don't know, the school would think was weird.
So this was never turned in. And now I am really happy here, blogging alongside with all of you. You guys helped me a lot with blogging; I'm no longer scared of tags, lol. I hope to continue this blog for a long time. 🙂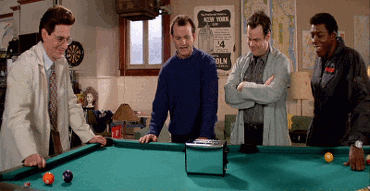 Advice
This is good, I like giving advice. I'm actually helping out a friend of mine create her bookish blog, go check her out here.
 Be involved- Don't be scared of tags, blog tours, or other blogging fun. Put yourself out there a bit, get out of your comfort zone. I've met a lot of really sweet bloggers here that share my love of books, and I've never been happier! I do a lot of tags that get me connected with people who likes the same books that I do, and I hope to do some blog tours in the future (once I figure out how to 😊). So just be your weird self and get tagging!
Use GIFs- This is for posting advice. I always use gifs a lot from Giphy or Pinterest because they seem to spice up a draft. It's nice to add visuals for posts, they add to what your trying to say. And use some that makes sense to you! I always use fandom ones, I like to see if you guys know where they came from. 😀
You've Just Been Nominated
Sorry if you've already done this! I'm trying to nominate those who I haven't already in my previous award post.
Marie @ Marie's Library/The Green Onion Blog/Amanda @ My Opinion Site/Michaella @ My Bookmaniac Life/Maya @ Book Dragon 1017/Cikitaokt @ Piles of Books/Alex @ Whimsy Pages/Getting Through Anxiety/Zoe @ Zoe169/Emma @ Llady Literary/