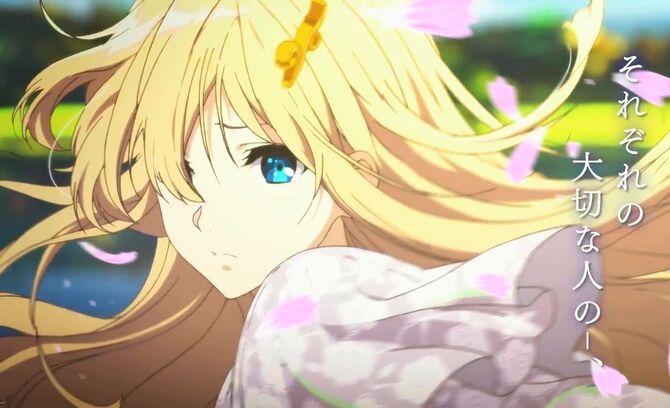 Small Summary
"Violet Evergarden" is a young ex military member getting used to life out of the battlefield. She was orphaned during childhood, so she only knows the life of a soldier in combat. Because of this, she is regarded as a weapon. However a man named Gilbert Bougainvillea doesn't regard her as so. He tries to raise to be her own person, not a tool, on the grounds of practice camps, but war and bloodshed soon follow behind.
Gilbert's last wish for Violet is to live freely. Soon after Violet emerges from her time at the hospital, she acquires a new job as an Auto Memory Doll. The Dolls are responsible for writing letters for those who cannot find the write words to express what they want to be seen on paper. Violet hopes that taking this job will help her understand her emotions, and understand the last words Gilbert said to her.
Discussion
Violet Evergarden is a heartfelt story of a young girl learning from her surroundings. She grows into a person who is willing to look back at her dark past and move forward towards the future. Moreover, this show also contains stories of many others who are learning to connect with either themselves or those that they've loved.
Through Violet, many people are able to reunite with family members, experience loss, regain inspiration, and find a future to look forward to. She has helped so many, yet she finds it difficult to help herself.
Even though she becomes a skilled Doll, she cannot truly convey her emotions properly. And when she thinks she has a hang on other people's thoughts, a new challenge comes at her door step.
However, through all the pain, loss, suffering, and mental obstacles that make it harder for her to look ahead, she is able to withstand it all.
---
The emotional trip I got from this show was largely impacting. I believe I went through several tissues in the process.
This show was one I picked up on the spur of the moment, not thinking about what the plot entailed, or the rating it had on the internet. Because of this, it made it easier to enjoy the show for fun.
The animation was absolutely beautiful. It reminded me that of The Ancient Magus's Bride (which I have yet to finish). And the design of some of the characters resembled clips I've seen of the Fate series. To add, the emotion I derived from the story was as powerful as A Silent Voice in most cases.
The only thoughts I had was some parts in the middle of the show would have worked well as an ending point. I feel like a few episodes may have seemed like filler because of this. But I have no objections for how the show ended. It was still a touching moment for me to watch nonetheless.
I wish I had a little more background on some more characters as well, like Benedict. Although we get a sufficient amount of a few, like Iris.
If I had to describe this show in under 5 words, I'd say it was "A lovely kind of bittersweet." It's definitely a show to watch if you are bored or unsatisfied with anything you're watching now, because this will not disappoint.
Overall, this is an amazing show to watch if you're not afraid of feeling sad here and there, and also if you don't mind seeing some gore as well. I can't wait to see the OVA, which is rumored to be released, very soon.
 Thanks for reading
---
Follow Me