Hello!
I've been finishing/coming back to some of the old webtoons that I used to read lately. While I was looking through all of my subscriptions, I found out that a comic I hold dear to my heart has FINALLY been finished!! So of course, I took the liberty to read it and finally made a post about it! (I'm changing up the way I do these posts, I hope you like it!)
So, join me as I talk about the comic that taught me the true meaning of "angst".
Currently On Stage
Winter Woods by Cosmos and Van Ji
About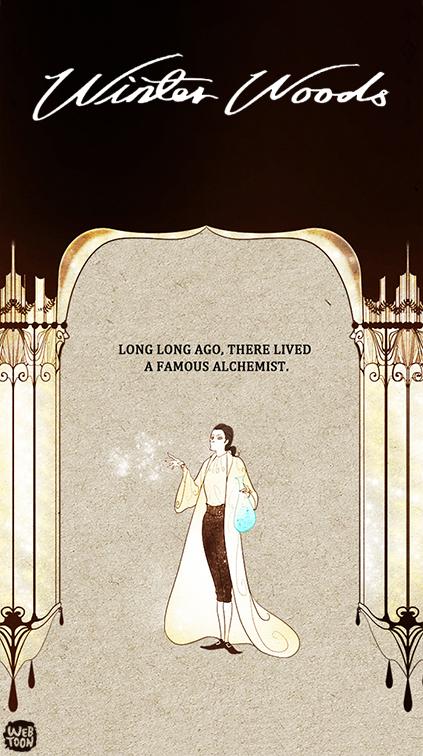 A long, long time ago an alchemist had an image of the family he wanted to create. Though trial and error he proceeded to create a son from parts he dug up from the graveyard. After assembling the body, he was able to create a man whom he'd hope to one day be his family. He and his companion, Roy, taught the man everything he needed to know.
Even though the man was whole, his body still rotted. The alchemist had to always find newer parts for the man in order to keep him mobile. For awhile, everything was "alright".
Skip ahead a thousand years later, where the man was discovered, huddled near the alchemist. His existence puzzled the scientists, so they brought him into a lab to conduct experiments on him.
The man may have seemed immortal, but he was lacking one thing: his humanity. Most of the scientist thought of him strange, others didn't like him at all. Only one, Hubert, treated him like he was a person. But can he become fully human? That was the questions that the scientists wanted an answer from. Luckily, an idea formed, and thus the man was sent to see a woman named Jane.
Jane is now a writer looking for her next best story, so when she meets a dead-looking man, she hesitantly lets him stay with her. She knows there's something very odd about him, but he's interesting enough to help her get inspired for her story. The only thing is, is that the man doesn't seem to be very knowledgeable about anything. So she takes it upon herself to teach him about being a real person. First, he must have a name to be a person, thus the story of Winter and Jane begins.
My Thoughts
I LOVED THIS STORY SO MUCH! Winter is such a cinnamon roll! Zoe is like a father! (Well, the last episode that is, and it was so adorable, because Winter… okay, I promise not to spoil!) And all the angst!!! (I cried and screamed into pillows so many times I tell you.)
I gave you a good gist of the prologue up above. (Basically I summed up the entire prologue for you…) I haven't read season 1 in months, so I hope my memory served me right, and that was an accurate enough description for you!
I remember I started reading this early in the morning right before I had to leave for class. I really enjoyed the first few episodes, so I ended up binge reading season 1 for a few days, then waited for all the notifications for season 2 and read the episodes as they came. I took a long break after that, and I ended up being afraid of going back to it because I didn't know if I was emotionally prepared. (Like I said, all the bittersweet angst!)
I'm glad I came back to it! I've been reading into the tragedy genre, so I felt that if I ever went back, I would be ready.
I wasn't though.
Either way, I still really loved this story, it had a lot of heart and adorable moments that made me internally explode from cuteness. I loved all the characters! (Yes, even Zoe. He just reminded me of Sesshomaru from Inuyasha after I came back from my webtoon dry spell. The likeness is that, without Zoe's "Rin", he wasn't a great "older brother", but with his "Rin" he was suddenly very likable because his personality was changed. In this case, the person who changed him was Adora, who is a total sweetheart, mind you.) Even those considered as the antags had their own tragic story that made me appeal to them for a little bit. (Just a little…)
The story went on as "the adventures in Jane's apartment" after that first meeting. Which was really cute, because we'd get to see Winter mess with Jane for a bit, and try to understand her emotions after. It wasn't until I kept seeing Zoe's chapters that I remembered that there was an actual plot going on, and I should stop fangirling about Winter's child-like scenes. (Which I never stopped to fangirl about.)
Season 2 became the season of bittersweet tears. A lot of serious events start to pick up, Winter becomes more wise, and Zoe grows even more likable (most of the time). A lot of newer character motives are revealed, and problems surrounding Winter start to unfold. It was really a roller coaster. There were chapters that would be fun, then they'd be crushed by the angst-filled ones.
I still really loved it, there was so much character building going on, and much more Jane and Winter moments. (They're my OTP, but I still loved Zoe and Adora, don't get me wrong.) Things either got darker and depressing, but I was still able to see a lot of happy moments mixed in. This really is a comic that will make you feel things, good or bad, so you just have to be prepared for everything that is to come.
A Few Facts
1. Roy: He's Winter's companion throughout the story. He was created by the alchemist as well, and helped teach things to him when they were together. He isn't taken with Jane at first, and ended up giving her a nickname. (It was Booger) But he changes as well, and has a background that will make you understand him a little more.
2. Adora: She's Zoe's companion and follows him no matter what. She's loyal to the point where it's almost dangerous for even her to handle, but Zoe is always there in her times of need. She cannot see, but she still can see the beauty in things, which is an amazing trait to have. 🙂
3. Larry and Smith: They are both Jane's neighbors. I can't quite remember that far back, but I believe they were the first canon ship of the story. They both have something up their sleeve, and even if not all the characters trust them one hundred percent, they still prove to be a helpful bunch.
4. Winter's lack of eyebrows symbolize his lack of emotion. It was stated at the very end, and I thought it was a good thing to add on here. (I always love it when he gets excited about eyebrows, it's adorable.)
5. He's never had a name before Jane. (This was something also pointed out in the last chapter by the authors, and I thought I could add it here because the rest I don't want to mention due to spoilers.) Winter was called EL-01 but that wasn't truly a name, it was a patient number. Names are important! Winter relieving his name like a person meant that it was possible for him to become human like everyone else. 🙂
---
That's all for now! Thank you so much for reading! I'm glad I was able to share it with you! Until next time!
Follow Me