AS PROMISED HERE ARE YOUR ANSWERS TO ALL OF YOUR QUESTIONS!!!!
What was the first book you reviewed?
It was City of Bones, but it got deleted so I had to rewrite it. Now it only has 3 sentences because I forgot what I originally put. 😂
What was your least favorite book?
The Infinite Moment of Us seemed like a good book at the time, but the characters really annoyed me and I wanted to DNF it. I finished it though, but it's not a book I'd recommend.
What else do you have in mind for your blog? Will you blog about other things rather than book reviews?
I want to try out some Book Tours, but so far I haven't been accepted in any. For now, I'm on a break with asking for more Review Copies; I have to finish the pile I already have.
Other than that, I don't have any current plans.
What is your favorite quote from the book you most recently read?
I couldn't remember any good quotes, so I searched up one that I liked. (Thank you Goodreads!)
"Having dreams never killed anybody."

— Nicola Yoon, The Sun Is Also a Star
What is something that immediately makes you smile?
Anything artsy! Whether it be a book cover, fan art, photography, I will always smile to it!
If you could shout anything on the very top of a mountain, knowing no one would hear you, what would you say?
I'd shout the names of every character who has died in a book or a TV show then cry for an hour.
What tale out there in the world do you think deserves more retellings?
I can't decide between Red Riding Hood and The Little Mermaid. I love both stories and I'd like to see more.
Also, I'd think it'd be interesting if there were some Jack and the Beanstalk retellings.
What's your favourite thing about blogging?
That is interacting with people who have similar interests! I love to discuss books and I like it when new people introduce my to new authors! 😀 I like expanding my genres.
I also love hearing what all of you have to say about my blog! I love all your positive feedback!
What's your most recent 5 star read?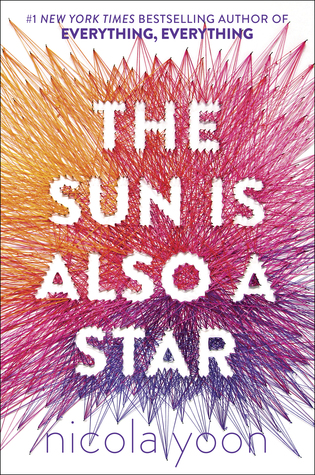 My review for The Sun Is Also a Star will be out soon!
If you could only recommend one book to people what would it be?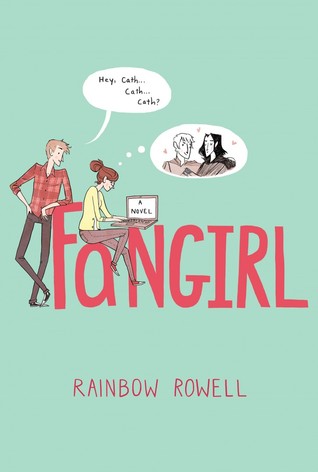 Fangirl is one of my favorite books of all time! I would forever recommend this!
What's your guilty pleasure book trope/ trope you will never get tired of?
It would be a fluffy story. Those stories are the best.
What's your favorite book from your least favorite genre?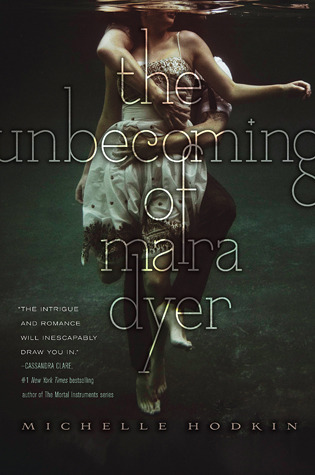 This isn't really a horror book, but the series sure was creepy. I loved it though!
Who's your favorite celebrity right now? (Or fictional character, if you're not into celebrities)
BENEDICT CUMBERBATCH!!
Which book world would you love to live in?
The Shadowhunter Chronicles! I love the series so much! I would love it one day if I woke up and everything from Cassie Clare's books suddenly came true!
Which fictional character do you think resembles you the most?
Lily from P.S. I Like You. I found her very relatable to myself. We're both very awkward and love music!
What are your goals for your second year of blogging?
I'm trying to post a bit more, and I want to try and make different kinds of bookish posts other than tags. (I just need to brainstorm some ideas.) I also have a few reviews for a couple of self-published authors that I hope y'all will enjoy!
How many hours a week do you spend blogging and reading?
At least 3-5 hours on weekends for blogging. It now takes longer to read one book because I'm busy nowadays, so I will read at least one book per week. (Sometimes it takes longer.)
My blogging process: I work on tags, TTTs, and other posts on Friday night and the weekend when I find free time. Then I schedule all the posts throughout the week. For reviews I write them right after I finish the book so that everything is still fresh. (It's an odd process, I know.)
What made you choose a book blog in general?
Well, I wanted to do an art/fashion blog at first. However, I wasn't really comfortable showcasing my art at the time and I wasn't also that great with clothes.
I was newly introduced to books, and I wanted to inspire others to read. I also wanted to expand my view on the book world.
I've learned lots from blogging, and I had all of you to help me out! Now, I'm helping others and I'm sharing my love of books with everyone!
Which is your favourite type of blog post to read and/or write?
I love to read tags! They're always entertaining to read, and I learn about the blogger while doing so.
I love writing my reviews! I feel accomplished after, and I get to start a new book! (I try to read one at a time.)
What is the most difficult part of blogging?
Being up to date is very difficult. There are a lot of new terms and phrases that always I look up to understand some questions from tags. (I had to look up what OTP meant once. 😂)
On top of that, I try to read the latest books that come out, but I'm always swamped with a pile of books I have at home that's just sitting around unread. I have around 30+ books in my box, 7 (?) library books, and 6 eBooks (all review copies) that I have yet to read.
What's one thing you've learned while blogging that's helped you most?
This may sound dull, but Copy and Paste. 😂 WordPress sometimes doesn't save a thing, or sometimes my comments don't get sent, so I just Copy everything just in case there's a hiccup with my wifi. It's saved me from so many problems.
How long have you been blogging for/book reviewing for and how do you promote your blog?
A year! I use Twitter and Goodreads, as well as Blog List Me. (I don't know if I'm on any other directories, I might be though.) I've survived almost 9 months with just going around the Reader too, but I've made a Twitter to help get some more traffic. (That and since I started to accept Review Copies, having a Twitter became necessary for other authors to get in touch.)
What 3 books do you think are the most overrated?
I've had to think about this one but Twilight, The Hunger Games, and Divergent. I love THG and I liked Divergent (I've only read the first book and Four) but I'd like it if newer books got just as much hype and more appreciation.
What are your hobbies apart from reading books?

🙂
Watching TV, YouTube, or any DVD. Also lots of eating, and napping. And Pintresting. I also try and doodle.
What is your most recent read?

🙂
I'll make a review and have it posted soon!
What is something that always makes you smile?
Anything to do with art, mainly fan art because they're some pretty great artists out there with great talent and I love looking at their work!
What is something you've always wanted to do, but haven't gotten to yet?
Travel! I've never traveled anywhere, but one day I hope to visit other countries and see all the sites! (And buy all the books from there!)
What kind of posts do you love writing the most?
Reviews! I get to rant about and/or praise many books!
Tags are a close second!
What is your favorite mythical creature?
Unicorn! Sometimes their friendly, sometimes their dangerous. But mainly they're buckets of sunshine and rainbows!!!!! 🦄
Who's your favorite author?
Cassandra Clare! She's a great writer and artist! She's made many books in my favorite series and has illustrated a lot of graphic novels and manga!
What was the first blog you discovered and loved oh so much?
I don't really recall that far, but I remember checking out my earliest follower's blog and I though it was amazing! I still do, and if you want to check it out here's the link: Book Wish.
Do you sometimes not believe that you're an actual blogger with people who follow your blog and like your posts?
Yes! People really like what I say? I'm touched!
I want to hug you all!! *Hug*
What would make you choose to follow a blog?
Well, I'll follow almost any YA blog out there. I like blogs that feature the books I've read and are interested in reading! So that's many all the blogs I've come across.
Why did you name your blog what you did?
Icebreaker. I wanted to show people that reading was cool! So I chose this name because I'm breaking the ice on certain topics. (Like icebreaker questions.) I wanted to let people know which books I enjoyed and which I didn't, and I'd talk to people and slowly that ice will melt inside of them and they'd find the books I liked interesting!
I sound a little whimsical I know. But my original intent was to encourage others to enjoy books with my reviews! I had polls and questions set up too! (Though I don't post them much, I still have that tab on my site open if you wanted to ever check them out.)
What would be one word to describe yourself?
Strategist. I need a plan and a strategy for everything. I always come up with blog ideas in my head and figure out how I'll present them in my blog. A lot of the time, can't really see a tag or a bookish idea as great post, so I don't write it out.
Thank you all for reading! And thank you for submitting your questions!! I loved looking at them and creating this post! I might do it again when I reach my next milestone!
Follow Me