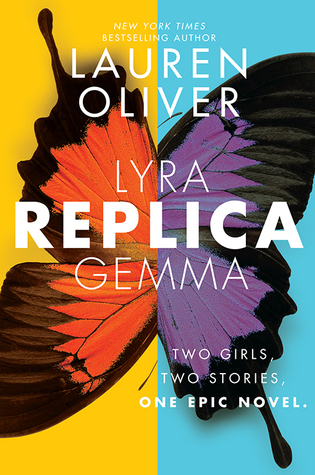 Replica: Lyra is a replica, she was engineered by humans. Gemma is as close to normal as you can get, she's the daughter of a very powerful pharmaceutical founder. These two girls' worlds collide when they discover the secrets of their origin: Haven.
From the beginning, Lyra always felt apart from the real people, as in the natural-borns. She has few pleasures at Haven, and is isolated from the outside world. When someone from the outside destroys the only home Lyra's ever had, she starts to uncover the truth about why she was created in the first place.
Gemma would give anything to go back to normal. She'd even happily go back to the days of being called "Frankenstein" and have Chloe bully her around. But now Gemma has run away from home to find out more about this place called Haven, an institute she's only heard about from her parents.
Lyra manages to run away with another replica, 72, and they set off towards the mainland.
Gemma ventures into the Florida marshes to get a close enough look at Haven.
The two girls meet and worlds start to unravel.
Review: They have everything in this book! Murder, mystery, love, loss, heartbreak, redemption, sci-fi, fantasy, etc. EVERYTHING! IT WAS EPIC!
I thought the separation of the book was really neat! Have of the book is Lyra's story, and when you flip it upside down and turn it around, it's Gemma's story. You could read both stories separately or read them together in alternating chapters (which I did). It was really creative, and so new to me; I thought it was brilliant!
I loved Gemma's POV the best. Especially the ending chapter; the words that were said were so beautiful. I loved seeing both girls change, but I enjoyed Gemma realizing the truth and accepting herself at the end. It was very heartwarming, and so many other feels!
I felt as though a lot more action happened in Gemma's POV, but Lyra had an equal amount as well. It's just that Gemma had a first hand account to learning what happened before Lyra did, I guess that's another reason why I enjoyed her POV a bit more.
Lyra was funny! Her straightforwardness was actually really entertaining, and I couldn't get enough of it. I really enjoyed seeing Haven from her eyes and her bookish personality even more!
And Pete! He's so accepting of Gemma, and can talk a mile a minute! I loved this dude, he was da bomb, haha! 😂
I had mixed feelings for 72 and Jake. When they both realize the truth about both girls (72 towards the end, Jake near the middle) they both got scared and wouldn't look at Gemma nor Lyra. That was the only thing that really irked me, but they both got resolved.
April was straight up hilarious! I loved her bubbly personality, and I could see that she is a great friend towards Gemma. And plus her energy and drive is contagious.
Overall, this book did not disappoint! I hope y'all will give it a try sometime!
Rating: 🌟🌟🌟🌟.5
More: If you want more of Lauren Oliver, then visit her here! Also one of her books, Before I Fall, will soon be a movie! Check that out too! If you liked this post and want more like it, then please hit that Follow button and Like this post below! I'll swing back again sometime later!!
Follow Me