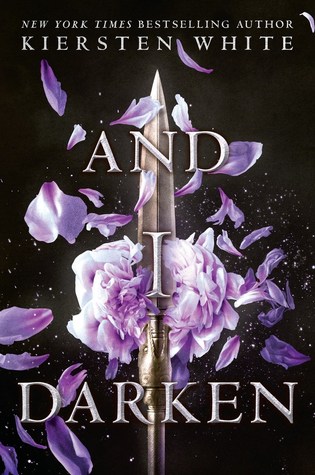 I have buddy read And I Darken with Sam @ RiverMoose-Reads.
And I Darken: Lada is the daughter of the Dragon. Her mother is her country, and she will never accept to bow down before anyone.
However, trouble occurs in Wallachian and her father ends up sacrificing her and her brother, Radu, to the sultan of the Ottomans, her enemy. Lada has a hard time adjusting to her new life, but her brother finds solstice with the people and the religion under the Ottomans. She doesn't want to accept her new fate, and will do anything it takes to go back to Wallachian.
The two siblings meet Mehmed, the son of the sultan, and befriend him. Lada hopes that their alliance protects her and her brother from the sultan's wrath, but Radu just views Mehmed as a friend. As they grow old together, the siblings have differing view on the empire, and Lada will continue to fight for her freedom while Radu is willing to call the empire his home.
Our Thoughts: 
DO YOU THINK THIS BOOK WAS ACCURATE AS HISTORICAL FICTION?
Icebreaker: To me it was very accurate. They mentioned Theodora of Byzantine, and she was indeed an actress, and her father was really a bear tamer. (I studied her for my final.) That's just an example, the accuracy of the time period was what I really enjoyed.
Sam: I don't know much about the history, but it seemed as accurate as it could possibly be. Though usually I hate historical fiction and this didn't really feel like historical fiction. If I hated known it was based on real history, I never would have assumed.
WHAT DID YOU THINK OF SEEING THE PROGRESSION OF THE CHARACTERS' CHILDHOODS, DID YOU LIKE THAT?
Icebreaker: I was sort of open minded to them growing up. I liked to see them change and grow, and see their past. However I don't normally read books that show a character growing older, and it seemed a bit slow paced that way. But it really was interesting to see the change in them.
Sam: I loved it! I liked seeing them develop as characters and their motivations and relationships from childhood to current age. It meant the story took a while to get going, but I like seeing it.
WHAT SUPPORTING CHARACTER STOOD OUT AS YOUR FAVORITE, WHY?
Icebreaker: I'm not even sure if she counts as a supporting character, but Mara was my favorite. She wasn't what Lada expected her to be, and Mara could have been a favorable ally to Lada if she chose to be.
Sam: I really liked Bodlyn, he was interesting as Lada's childhood sidekick and Radu's rival for her attention. I hope we get to see more of him.
Icebreaker review: I was somewhat impressed with this book.
What I loved about this book was the setting! I love history, and this book was set (I think, if I'm correct) around the Fall of the Byzantine Empire and before the first major crusade. (It mentioned the wife of Justinian, Theodora, who was co-empress of the Byzantine Empire, that's how I knew. Well, that and the fact that the book was about the life of the Ottoman Turks which were said to have taken over Constantinople.) (I just gave you a history lesson, how about that.) It was also was a retelling of Vlad the Impaler, who was played by Lada. Overall, setting played a huge role in the story, and I loved reading and learning more about the time frame!
The thing that didn't sit so well with me were the characters.
Lada, at first, was a bit too rash at times and instigated many fights. I wasn't really thrilled with the idea of her being cruel either. But as the story went on, I started to warm up to her side of things and then I looked forward to read about her. I was finally proud of her a bit in the end, I was glad with the decisions she made in the last few chapters.
Mehmed at first completely won me over. He was a great friend to Radu and Lada, and I had some fun reading his character. As he grew older I wasn't really happy with the decisions he was making. He would constantly see other women, which angered Lada a lot, and I started loosing my trust in him. He also kept secrets from Lada and Radu, which also irritated me a bit.
I loved Radu in the beginning. I felt really bad for him because Lada and Bogdan wouldn't play with him as a child and so he clung on to his nurse. Even as he got older he felt somewhat detached and he knew he could never get what he truly wanted. He was sweet and adorable as a kid, but as he grew, he sometimes made me upset but I understood him. He still loves his sister but he can't always choose her, and that realization draws him apart from her. But I still liked him in the end.
The story's plot was about Radu and Lada growing up together under the sultan, and them facing what sacrifice, love, and war. It was incredibly slow paced, at least it felt like it was, and because of that, it took a long time for me to actually finish the book. Also nothing stuck with me for awhile, but I'm happy I finally finished it, it took me one month.
Rating: 🌟🌟.5
More: Be sure to check out Sam's post!!! It was fun buddy reading, thanks again for being my buddy! If you liked this review then please click that Like and or Follow button below! If you want to check out the author, Kiersten White's site is here. Bye everyone!
 Follow Me