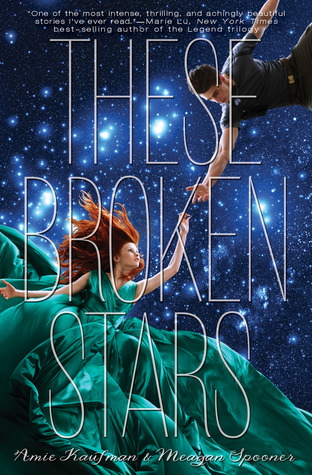 These Broken Stars: Lilac LaRoux is the heir to one of the richest terraforming companies in the universe; her name literally opens doors. Tarver Merendsen is a war hero and a soldier who despises the fancy life of those rich snobs, and enjoys the battle field. Let's just say that their first meeting wasn't smooth sailing, and both of them were equally eager to never see each other again. However, the luxury spaceship they're on accidentally falls to the nearest planet and Lilac and Tarver seem to be the only survivors. They must travel, on end, for a way to get back to civilization; for Lilac this means going back to parties and eating frilly meals, and for Tarver this means going back to his family who must miss him desperately. Going home will mean that they'll never have to see each other ever again, and will put this memory of their disastrous time together far away. But is that really a bad thing?
Review: You have officially wowed me. 5/5 stars! This is one of the best sci-fi books that I've ever read! The story is so detailed and the characters are so heartbreakingly spectacular! Lilac is one of the strongest female characters I have ever read. In her situation she can hold herself up and keep going. And she has the best heart! In the beginning you see her as a celebrity, one who must always be wary of how the tabloids spin stories and one who breaks hearts before anything can happen from it. Then she becomes stubborn and sassy (which is entertaining at times), then you start seeing her selflessness (but it can lead to disaster) and her heart. During the whole book she stayed strong and bold, she was also very resourceful like Tarver. Which leads me to… Tarver! Seriously, how can you not love this guy? You have to laugh when he irritated Lilac. C'mon, you had to. Sassiness is the key to the best books. He changes a lot too, if anything he seems even more selfless than Lilac if that were possible. Plus, he's very cunning as well and is very grounded (usually). The plot was the best part! I'm not a huge sci-fi reader, I just dabble now and then. (I'm working on that.) To be honest, the first time that I saw what this book was about, I overlooked it and didn't read it. I'm glad that I read it now, or else I wouldn't know how great this book was! I was immersed in the plot, and as the story continued, I began to have my own theories about the planet Lilac and Tarver were on and imagined book scenes. I can't really tell you anything else without spoiling it for you, which I won't. The world-building was truely remarkable! The whole setting of the planet was so detailed and precise that I kept reading on, not caring about the fact that it was sci-fi and I didn't normally read books that contain other worlds (not including fantasy). The future world was amazing, it wasn't totally unrecognizable from our own world and that's what I liked most about it. Overall, you need to read These Broken Stars!
More: Click here for more on The Starbound Trilogy! I really hope you enjoyed reading this really LONG review. 😀 If you did happen to like it, then express yourself by hitting that Like button, and if you want more reviews like this then hit that Follow button! My best wishes to all of you other book nerds. Oh and check out my Twitter on the bottom of my blog site!