Thank you!
I want to thank the wonderful Nielle-Reads-Books for nominating me! I love her book blog, go check her out too!
Rules:
Write a post with the award picture.
Nominate 12 other bloggers who are funny, inspiring, and, most important of all, ENTERTAINING!
Add these rules to the post.
Thank the person who nominated you and leave a link to their blog!
Also, answer these questions down below!
Questions:
WHY DID YOU START A BLOG IN THE FIRST PLACE?
Well, in computer class I had to create a form blog/vlog/wiki of our choice. I chose blog, of course. 🙂
I tried different blogging websites (but not Tumblr, I should try that sometime) but none of them ever stuck like WordPress. So now I had my site but I didn't know what my blog was about.
Everyone was doing it about their personal lives, but I was new to the book world and I thought writing my reviews and showing my bookish opinions was going to be fun. Here I am now, having a blast because blogging has encouraged me to read newer books and learn about other bloggers. 😀
The teacher forgot about the assignment, bummer, but I still kept this blog going, and I plan on keeping it on for a long while.
WHAT IS YOUR FAVORITE BOOK?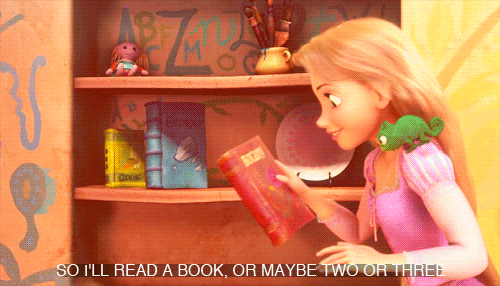 I really like this gif. 😀
I don't really have a favorite book, because I love them all so much. My current favorite is A Court of Mist and Fury. I've read a lot of good books since I've read ACOMAF but it still remains my favorite for now. 🙂
WHAT DO YOU DISLIKE THE MOST?
In books? Well, I'm not much of a sci-fi fan. I will read some however, maybe my mind will change, you never know.
Other than that, I'd say annoying characters are my #1 disliked thing when reading. Nobody wants to read a book with that kind of character, I mean it just ruins the whole story. If your reading about someone that annoys you, then the rest of the book seems not worth the trouble. So authors try to give us witty, sarcastic, cunning characters that we will love.
And while you're at it, don't kill them.
-Sincerely the Reader
WHAT IS YOUR FAVORITE FOOD ITEM FROM THE MALL?
Pretzels. I love a good cinnamon pretzel. I used to eat them with my mom all the time, and now I just like getting them.
I haven't gotten one in so long though. It's because I keep blowing my money on Hot Topic. 🙂
WHAT IS YOUR FAVORITE PAST TIME?
Reading of course! I can't go a day without a book, it's impossible for me. I've tried trust me.
I once bet myself to go a day without reading in the summer. It was hard because I had nothing to do that day and I really wanted to start a book!
But I did it, and I don't want to go through that kind of torture again, haha.
Taggers:
Laura @ Hot Shot Headlines/The Library Lizard/Alex @ Whimsy Pages/Maya @ Book Dragon 1017/Amanda @ My Opinion Site/Emma @ The YA Hunt