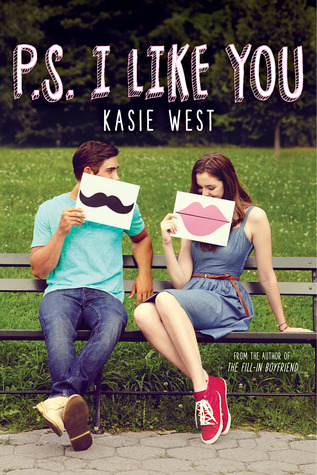 P.S. I Like You: Lily has her head in music all day long. It helps to distract herself from the real world, meaning Chemistry class. It's the dreaded class of the day. Lily doesn't think twice when writing some lyrics on her school desk. Only to find that the next day she's staring at someone else's words added to the line of her song. More notes are left on her desk until she's writing full-on letters to her mysterious penpal. But who could it possibly be? Maybe her crush from forever, Lucas? Or maybe that guy Isabel keeps pushing on her, David? As curious as she is, Lily enjoys the anonymity of the letters. Someone at her school is her other half, but if they meet her in person they might not be as impressed at Real-Life-Lily compared to Letter-Writer-Lily. It's probably better that she not know, but Lily can't help but wonder.
Review: Stupid tear ducts, why must you betray me? Oh, you bet I cried. I loved this book so much! It's cliché and predictable but it's such a great story and it's so cute! I love love love the character interaction in this, I always love little squabbles between characters that are fun. Lily is like the definition of me in a nutshell. I don't have a big family (not including my extended family). I'm an only child, but that doesn't mean my house isn't crazy. Lily is that weird, awkward person with no filter whatsoever. That's me!! I can't talk to people like a normal person would, I laugh at funny jokes in my head, and I like music a lot too (not Lily's kind though). We should be twins. Now on to writing. I was shaking my head at like the first few pages, which consisted of describing her clothes and Lily's crush. Though looking back, I still liked them, I missed reading about characters' clothes, I hadn't read contemporary books in awhile. It's probably not grade-A advanced writing, but my average reading level maybe and I missed West's writing, I have grown fond of it. Is that it? Am I done? Hmmm…. setting was not as perfect, I didn't know they were in Arizona until much later in the book. The plot was amazing, I really liked the idea of not knowing who you're writing letters to, but I did know who wrote to Lily… not spoiling it! Well, it was obvious, but I'm not saying anything to you people, you can find out for yourself! Overall, I loved it and I hope you do too!! 😀
More: I really love Kasie West's stories, they are really sweet! Not bittersweet, just adorableness on paper. If you want to see her other books then click the link right here. Have I done a review of her books before? I don't think so. Oh well, I'll see you bookwormd later, I better skedaddle. Before I leave, let me just tell you to Like and Follow! Okay now, bye!