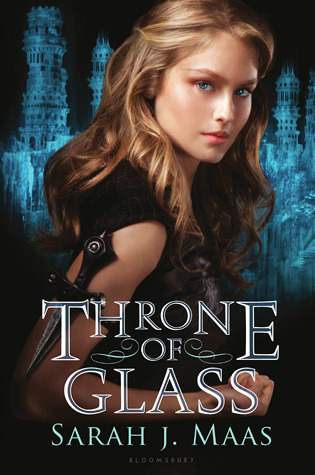 Throne of Glass: Celaena Sardothien has spent a year in Endovier, mining salt as her punishment. Those who end up in that prison never usually come out, and most don't survive a long time there either, but it's no small feat to last as long as she has being the world's greatest assassin and all. When the Crown Prince finds Celaena at the salt mines and offers her freedom for servitude and to accept to be his Champion in his father's competition, she can't resist to say no. In order for her to win, she must go against skilled fighters, assassins, and thieves hired by the other noblemen as their Champions. Plus, something mysterious is lurking on the castle grounds, killing the other competitors and frightening them. Celaena, curious, starts to investigate these murders but she must stay on track for the king's Tests won't be as easy as she thought they will be.
Review: Give me a moment, I am blanking out… Okay! Well, first off, this was a great book and I enjoyed it very much. I was sort of in a reading slump when I read this so I didn't very much catch too many details and the excitement was drained out of me for a brief period (I had a very busy week and that tended to get in the way of my reading). But I did really like this book! I mean look at the new cover, I love it! It was sort of based on Cinderella, Maas said she had incorporated some of the things from the story (like the ball, and the prince, and the clock) but her book was entirely unique on its own to be called a retelling. The plot was straight and interesting, and I'd say it was a semi-fast paced read, though it took me longer to read it than I expected. The love triangle is very confusing I'll give you that (who likes who?? She doesn't like him, he likes her. She's attracted to him, he is too, but stays away. She remembers him, he's dead.). I loved the banter between characters! I always think this is a nice touch. The writing was moderate, it wasn't a hard-to-read book. Celaena was a total kick-butt character, she's awesome and funny and fearless. Whelp, there was that one part where she had fear but I can't tell you cause of spoilers! Anyway, this book is very hyped, I'm not sure if the hype made the book better or didn't, all I know is that if you search something it will give you major spoilers. (During the first book I was like, "Who's Rowan?! I need to know!!" Because I typed Throne of Glass on the search bar and got a bunch of spoilers that made me go crazy cause of the feels about Maas's books.) I do think y'all should try this book out, I think you might enjoy it!
More: Hi lovely people who read my blog cause they like to read! How about you Like this post and Follow my blog? If you want to check out more Sarah J. Maas action go here. I am on book 4 now… I barely survived book 3! I love Sarah J. Maas because she's the one author who knows how to break my heart, but at the same time… She broke my heart!!! Until then I'll swing by later!