YAS!!!!!!! THIS IS REALLY HAPPENING!!!!! IT'S RAINING POKEBALLS!!!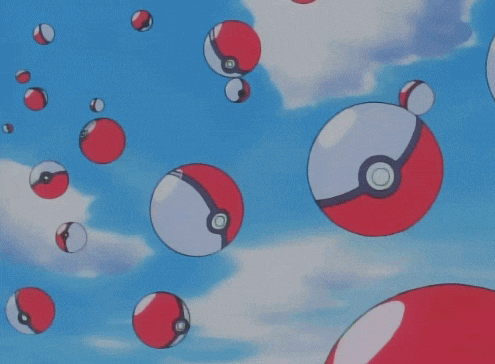 I'm the only one that doesn't have the game. I thought I could play it on my iPod, but it works best on a phone and I have a slide phone! I would get it on my iPod someday, maybe, but I'll wait until I can get a good phone for it, plus it's enough time for the creators to fix all the bugs.
Curse you slide phone that cannot get wifi!!
*Sigh*
Thanks!
I want to thank Emma @ TheBookishUnderdog for tagging me, go check out her website! This tag was created by Aentee @ Read at Midnight, so go see that as well!
With Friends!
So this thing will be color coded:
Icebreaker694
AngelWings
FlyingUniShark
I asked them these questions via text/calls/Face Time (I had to retype EVERYTHING!) so here's what they said:
Gotta Catch 'Em All!
That one's easy: Ella Enchanted! I used to think books were boring (shocker, right?) but after I read this book, I wanted to read more from the author. I guess you could say the rest is history. 🙂
I don't really know what started my love of reading. I guess it started off with Rainbow Magic. When I was little that was all I could read, but starting 6th grade I wanted to try something new so I guess the book that started my love of reading was The Divide. It was a really good book and I loved it and still do.
Well, I'm not sure what book exactly started my love of reading, because I've read a lot of favorites. My grandpa used to read books to me before bed, and he'd read them to me in different voices. He'd also let me read to him, too. Our favorite was: The Monster at the End of This Book: Starring Lovable, Fury Old Grover, by Jon Stone. He said what Grover said in a funny voice and I'd about laugh myself out of bed. 
Hmmm… I did enjoy To Kill a Mockingbird a bit— more than the average person in my English class. I don't really have a favorite classic because I haven't read very many, but I'm hoping to read the Sherlock books so… Do they count? I'm sorta counting them.
I would say To Kill a Mockingbird. It is a classic and lots of people love it and cherish it even to this day.
Pride and Prejudice!  I can't say I fell in love with the book first, though. I caught my mom watching it and I watched it with her. I LOVE THAT MOVIE!! A couple of months or so after watching the movie, it was Mom's birthday! She got a book containing P&P, Emma, and a few other Jane Austen novels. I started to read P&P because I'd seen the movie, and loved it! But I was young, maybe eleven and the book was to wordy and dull for me. I picked it up around a year or so later, when I was twelve, at the school library. I was determined to finish it, because A, I let it beat me before, B, my vocabulary had expanded over the year, and I didn't think I was going to be stumped by the long words again, and C, because maaaybe, I liked the attention that I was getting for reading a high level book, and miight have been a little vain. I finished it in about a week/half, and it was great! I even copied down favorite quotes!!
Tha-tha-that's all folks!!!
I like how you stole my thunder.
You be quiet.
Hard hard hard hard hard hard… Lemme think first. *Goes to mind palace* *Laughs at reference* Well I wouldn't count this book because I haven't read it (I wanted to read it for a brief time but wasn't sure) but The 5th Wave. The more hype it got, the more I didn't really want to read it. 
The Hunger Games because everyone loves it. Many people talk about it all the time, but I think it gets a bit too much attention.
I don't know.
Carry On was based on the HP books but I still loved it anyway. It was an amazing book, I loved Simon and Baz. Rainbow's writing kept me immersed in the book the whole time I was reading it! If you want to see my review click here.

The Giver and Matched because they are both set in  a utopian like place that is actually a dystopia, but that are both awesome.
Umm, the Matched series reminded me of other dystopian novels, like the Divergent books, the Hunger Games one and the Uglies books (by Scott Westerfeld). Sorry this one is shorter than the others, I couldn't think of anything else!!
I don't have any books that I didn't want to start because they were too long or too short. I just like to focus on the stories, not the size. But every now and then I might not pick up a book if its under 100 pages.
Harry Potter because there are so many books in the series already and they are also making more.
Pshh! I don't let size intimidate me!!!
ANY EBOOK EVER!! If it's a print book, I'll need light and that'll wake up the whole street! So any ebook I've read kept me up all night. Vampire Academy, the Bloodlines series, Seraphina, ACOTAR, ACOMAF, and much more.
Princess X because I needed to know what would happen.
So many!! I don't stop stop reading for sleep! Psh, who needs sleep!? There are too many to list that I stayed up to read!
I am sticking with my answer: Will and Tessa! (TID) Cassie Clare has set my expectations for all possible OTPs, no one can compare! Just hearing some of the characters names gets me into fangirling mode, I think I have a problem. 😛
Goose and Celine from Mirrored because I like the couple and think it is true love.
Oh my gosh, yes!
Non-canon: Ignatius J. Reilly, from A Confederacy of Dunces, and Don Quixote! They're both senseless, and might fit together! 😊
Uh okay, I need to think back on this one. (…) Got it! The Season of You and Me was pretty fast paced. A lot of people like faced paced books, I'm more of the opposite. I like having a reason to stay in a book longer. 😊
The Hunger Games because the first game went by fast.
CUJO!!!! BY STEPHEN KING!!!!! It starts off slow, then ROCKETS INTO ORBIT!!!! OMG! I LOVE THIS BOOK!!!
EVERYONE NEEDS TO READ IT!!!!!
TMI, TID, TLH, TDA, TBC! Currently only The Mortal Instrument, The Infernal Devices, and Lady Midnight of The Dark Artifices series is out. (Along with The Bane Chronicles and Tales from the Shadowhunter Academy.) I can't wait for The Last Hours to come out!! As well as Prince of Shadows!! Does anyone know if Tales from the Shadowhunter Academy is in paperback yet? I can't seem to find it anywhere.
The Lunar Chronicles because I love seeing new books come out.
To be honest, I don't know if there are any series with enough questions to be answeres that can withstand prequels, sequels, more trilogies, bunches of theories, and other things… besides Gravity Falls… but that's not a book… but it doesn't matter…
YES! GRAVITY FALLS!!!
ZEROES!!!!!!!!!!!! I loved that book to pieces!!! Zeroes is about six teens who have these powers that work with the Curve. Five of them were in a team, the Zeroes, and went on missions until Scam opened up his mouth and broke them all apart. So now they need to be back together for a new mission. It may not be the book for you, but I am a huge fan of superheroes and whatnot. This book was amazing, I loved it, it need to be a movie!
Princess X because I didn't expect much out of it.
Miss Peregrine's Home for Peculiar Children!! I found this book at Half Price Bookstore or at Scholastic Book Fair, or something! I don't even remember where I found it! I didn't really think much about it when I started to read it! But it has become SOO popular! I am SUPER glad I picked it up because it is a GREAT BOOK!!!!
Shiver, Throne of Glass, (going to continue) the Vampire Academy series, and Cinder (which I has mixed feelings for). Throne of Glass is what I'm most excited for, Sarah J. Maas's ACOTAR was astounding aaaaaannnnd I can't wait to read more of her books. I just have to wait a bit before it's available, I'm borrowing it. Nerve isn't a series, I don't think, but I still am excited to read it
Harry Potter.
The Hunger Games!! I know, I know, I'm dumb, but I honestly haven't read them yet!! I know, I need to!!!
Every time at the store I see a Cassie Clare's collector's edition of TID or TMI and I really want to own it! I only own City of Ashes and City of Glass in paperback (my copy of CoA has the older cover). I have a collector's edition of the first three Selection books though! So I'm happy about them.
Harry Potter because it would probably look really cool.
Alice in Zombieland! I love those books! I have actually only read the first and second one, and I got them from another town's library! I need to read #3, and I want them to be all together!! Did I tell you I love them?
I want to read The Girl at Midnight. The City's Son is also on my TBR for a debut novel, same as Atlantis Rising. The last two I currently own.
I don't really know.
I don't know any.
Cassie Clare, Becca Fitzpatrick, Sarah J. Maas, Maggie Stiefvater, Kasie West, Morgan Matson, Robin Constantine, Alex Flinn, Kiera Cass, Richelle Mead, Sarah Ockler, and Anna Banks.
James Patterson because he makes a lot of good books.
!!!!!!!!!!!!STEPHAN KING!!!!!!!!!!!!!!!!!!!!!!!!!!!!!!!!!!
I've technically been waiting for Royal Tour the longest. But there's so many more books I want like Beheld, Prince of Shadows, and Sarah J. Maas's untitled 3rd book to ACOTAR!
 I'm not waiting for a book to come out right now.
The Renegade X Series #4, The Phobia of Renegade X!!! It might have come out by now, but I'm waiting for it to come on kindle!! I. WANT. IT. I. NEED. IT.!!!!!!!!
I Got It! (I Tag You):
Aya @ Boollovebabbles/Donish @ Bookitwithdon/Sophie @ Book  Wish/Sam @ RiverMoose-Reads/Casey @ AdoptaBookAUS/Sammie @ Bookshelves & Biros/Codie @ Reader's Anonymous/The Immortal Readers/Bianca @ The Ultimate Fangirl/Sean @ KingdomBookBlog
That's all for now! I want to thank my friends who agreed to be in my post! (Sorry if I was pushy, I tend to be like that sometimes er 😵) 
Well now to my readers! Like, Comment, and Follow below. If you want to share a comment, question, or concern with my friends I'll be happy to pass along your message. They can speak through me too, so yeah. Any who if you want to do that tag and I haven't had the heart (shame on you icebreaker) to tag you, then you're free to do it if you want. 🙂 Now I'll be heading off. À bientôt !