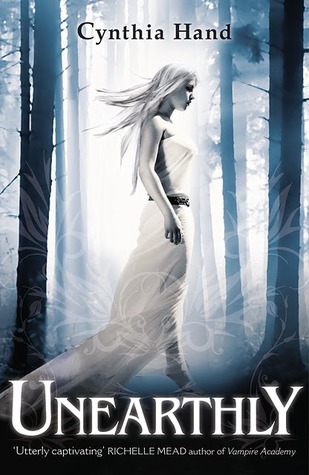 Unearthly: Clara Gardner finally starts to have visions of her purpose. She's part-angel, and it's about time for the visions to start appearing to her since her powers are manifesting. As like other part-angels, Clara has a purpose here on Earth. Hers is to save a boy she's never seen before from a forest fire. Seems easy enough only she can't fly, doesn't know where the forest is, and doesn't know who she's really saving. She and her family move to Wyoming after finding a lead on where Clara's purpose is supposed to take place. There she discovers the identity of her dream boy, and meets a very annoying cowboy, Tucker Avery. Finding herself doubting her entire purpose, discovering that she's not alone, and falling hopelessly in love; will Clara fulfill her destiny without fail?
Review: What's up with her brother? Seriously, I'm now being skeptical. I have a good joke for being skeptical… but I can't really explain it in writing. Anyway, this is a solid 4 star book! It did take me a bit to warm up to it, but once I did ALL THE FEELS CAME LOSE! Yes, most people may find this book cliché, and it kinda is, but it has it's own individual world to it and I loved reading all about it! The writing isn't very advanced, but it doesn't stop it from being a bad story; it was easy for me to overlook the type of writing and just enjoy reading. Overall, the characters are good, the plot is okay, but the feel of the story is better than any book I've recently read. I recommend this to everyone unless you hate love triangle, paranormal stuff, and simple reads; but I still would like for you to try it out. 😀
More: Whelp, this is the part where I tell you to read more review, Like my posts and Follow my blog and then I give the site of the author (here). I'm sure you get it. 🙂 What? Pffft! I am not giving you subliminal messages! Haha! Why would you think that? I don't even know how to write them. (*looks suspicious*) Okay, I'm getting crazy. 😀 Bye!