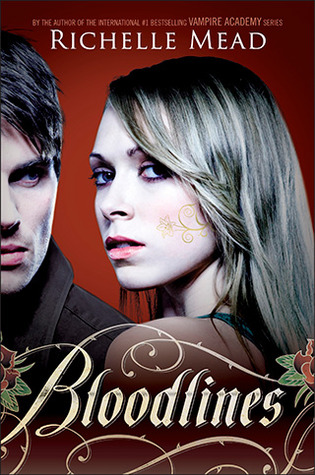 Bloodlines: Young alchemist Sydney Sage was taught to always fear vampires. But she's ripped out of her bed one night to find herself aiding a young vampire princess from rebelling Moroi. She's whisked away to Palm Springs, and has to retake high school. Of course she's the smartest in her grade, but people assume it's because of her "magical" lily tattoo. Everyone in school has a tattoo with special properties, and Sydney can't help but trace her evidence of them to vampire blood and the recent killings close by. Keeping Jill Dragomir safe, Sydney must also keep the young Moroi from blowing cover, and finds herself getting close to all of Jill's other vampire friends in the process. But Sydney getting close with vampires will get her in a load of trouble, and could send her to re-education.
Review: Alchemists seem like the police for the vampire world. I have read Vampire Academy, but still couldn't get by the fact that vampires creep me out. But in Bloodlines I think that having a human view in the story shown me how human-like all the Moroi really were. I think I would related to Sydney a lot in this, she's been growing up believing that all vampires are evil—living or dead— and has a hard time still shaking the feeling of them being near her. But she lead me to believe that not all vampire books are so bad, it just depends on how the story goes, I guess. I believe that I might have been smarter than Sydney when it comes to Lee, (spoiler) I never trusted him and assumed he would end up being evil and I was right. Overall, this was a really good book! 😀
More: If you want to check out the books, click here for Richelle Mead's website. I hope y'all enjoyed this, sorry if I'm not posting as much I'm getting pretty lazy. But stick around cause I always swing back here and check you all out. Click and slap that Like and/or Follow button, I'd very much appreciate it if you did. Bye my pretties!