Changing things up a bit 😀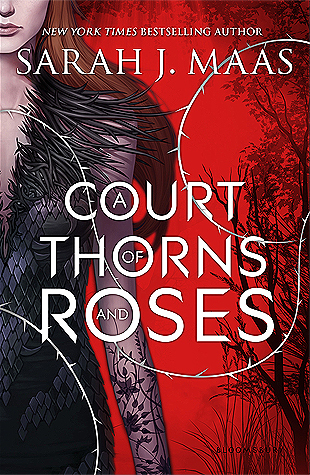 Will contain spoilers:
A Court of Thorns and Roses: When nineteen-year-old huntress Feyre kills a wolf in the woods, a beast-like creature arrives to demand retribution for it. Dragged to a treacherous magical land she only knows about from legends, Feyre discovers that her captor is not an animal, but Tamlin—one of the lethal, immortal faeries who once ruled their world.
As she dwells on his estate, her feelings for Tamlin transform from icy hostility into a fiery passion that burns through every lie and warning she's been told about the beautiful, dangerous world of the Fae. But an ancient, wicked shadow grows over the faerie lands, and Feyre must find a way to stop it… or doom Tamlin—and his world—forever.
Spoiler Review:
Writing: This, this is what true amazing books contain. I loved it, at first I might have been skeptical, but I truly loved it! Feyre is always lively and loyal, and everything about her personality is laughable (her jokes) and fiery that she doesn't need to rely on anyone but herself. Everything, from the small jokes to big teary scenes was just so compelling.
Love Aspect: I got the riddle a bit before Feyre did, anyone else? Yes, I believe Tamlin and Feyre make a great fit, that was until I read the second book (I got so mad at Tamlin after that.) But risking everything for love, Feyre had me on the edge of my seat every time. I thought what she did with her first trial was genius, making a bone ladder like that. And Rhysand, he is the person who like to get under Feyre's skin, and I actually enjoyed those scenes of them together.
Plot: Straight forward, this is some incredible turn around. She's supposed to be safe with Tamlin, but she ends up saving him instead and every other court. It started out as your regular survival story but became something else once she went to the Spring Court, and then only until after Amarantha's curse is revealed it becomes a love story. I loved it all!
Will contain spoilers:
A Court of Mist and Fury: Feyre survived Amarantha's clutches to return to the Spring Court—but at a steep cost. Though she now has the powers of the High Fae, her heart remains human, and it can't forget the terrible deeds she performed to save Tamlin's people.
Nor has Feyre forgotten her bargain with Rhysand, High Lord of the feared Night Court. As Feyre navigates its dark web of politics, passion, and dazzling power, a greater evil looms—and she might be key to stopping it. But only if she can harness her harrowing gifts, heal her fractured soul, and decide how she wishes to shape her future—and the future of a world cleaved in two
Spoiler Review:
Writing: I loved reading about all of the fight scenes because I had a clear view of them in my mind. The writing very lively and descriptive, and you have to love the humor that goes around all of the characters. Everything is so perfectly laid out and everything that was in the first book (Rhysand stumbling, the bond tether, Tamlin's own silence towards Feyre) has a reason in this book, and everything just comes together so well.
Love aspect: SOOOOOO MUCH CRYING!!!! So I always like Rhysand, just putting that out there, but I like Tamlin too, but after reading that I no longer do (He locked her up!). I did sort of spoil the book for me, so I knew about Rhysand being Feyre's mate and all, but I was still shocked at all of it. But I ship them now. 😀 And the ending!!! I was just reading about Feyre wanting to break the bond between her and Rhysand, and I kept rereading to see if I heard right. But then when the chapter shifted to Rhysand's point of view (I squeeled because I got excited to see what he was thinking) and learned that the bond is still there, my original thought: You conniving actor, you are so brilliant!!!!!! Then it shifted back to Feyre at the Spring Court and I couldn't spot smiling at the trap she laid for all of them. Again, brilliant! This is my new favorite series!!!!!
Plot: Not going to lie, it took forever. But everything is so climatic and the ending (!!) was not another conclusion, not a cliff hanger (not exactly) but leaves you in suspense at what will happen later. The main goal was to avoid a war and break the Cauldron, but changed as it started to plan Feyre's and Rhy's future together. They don't just fight for peace, but for a future together, and as a gushy teen like myself, this made me so happy 🙂 haha. But I couldn't put it down, I stayed up past 3 am trying to even get to the middle of it. Its worth it all!
More: Go to here for more of the incredible, the brilliant (yes I've used this word a lot but I have no other more perfect words to describe it) Sarah J. Maas. Hope you liked the review! 😀 I really love the series, and expect a Upcoming from me when a title cover drops for the third book. Click that Like or Follow button beeeeloooooow and give me a smile or a howdy do in the comments below. Anything you want to share? Go ahead a comment, I swing by now and then, more now since it's close to summer. Bye my lovlies!