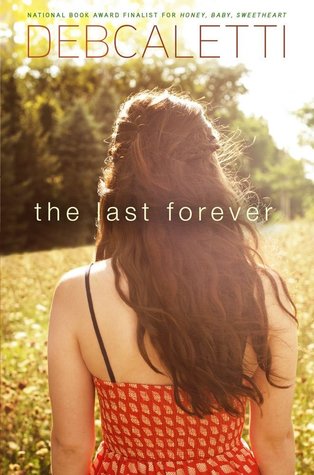 The Last Forever: It was only supposed to be a three day trip to the Grand Canyon, but Tessa finds herself stranded in Parrish Island with her grandmother, whom Tessa doesn't know at all. She didn't bring much, just a plant that her deceased mother once cared for. This plant is special however, the last of its kind, a pixiebell. Tessa starts to notice it getting weaker, and since the plant has a strong connection to her mother and her family, Tessa wants nothing more than to keep it alive. But nothing last forever, Tessa will try anything to keep the pixiebell alive, and with the help of some new friends maybe there is hope after all.
Review: This is a sweet, cheesy, humorous book to read. The writing style: it's all from Tessa's POV but she is retelling a story that she already lived, so she'll give you little hints as to what's to come. Tessa is headstrong and quirky, she reminds me of me a bit so I kept smiling whenever I was reading this in class and trying not to laugh at how ridicules she sounded. She daydreams about her movie self, I sort of do that, but I call it an alternative reality. Overall, this book is insightful and I'd gathered a couple of quotes from it that I liked. I am not sure if y'all will enjoy this but it's kind of heartwarming so I suggest you at least give it a try.
More: If you want more of Deb Caletti, I'm sure she won't mind a visit from you to her site so click here. If you liked this review than make me smile by Liking the post, or if you want some brownie points Follow me too. 😀 I'll keep tabs on all of you, bye everyone!